Argan oil is an elixir of youth. It nourishes, conditions and deeply repairs the skin, preventing the occurrence of wrinkles. It is good both for face and hair care. Nanoil Argan Oil houses the most valuable substances from Argan trees. What makes it the best choice? How to use it?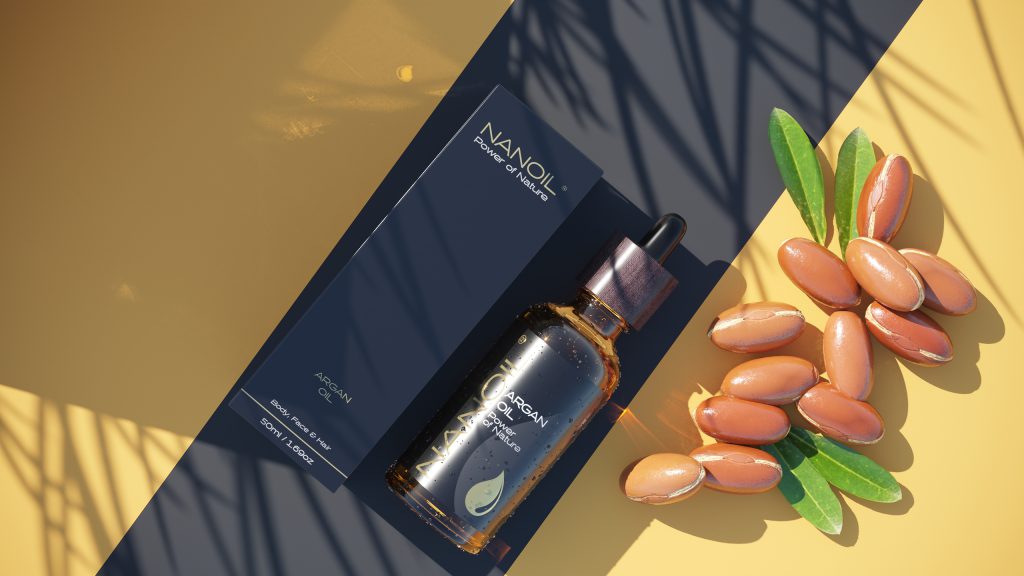 It smooths the skin and reduces scars and imperfections. Applied on the hair, it nourishes, moisturizes and revitalizes. This powerful cosmetic ingredient is called Moroccan liquid gold. It's been infused into antiaging and daily skin care products for years.
NANOIL Argan Oil
100 percent natural beauty oil, not refined, cold-pressed, and with the Ecocert label. It is rich in oleic acid, linoleic acid, carotenes, tocopherols, plant sterols, plus is high in vitamin E and butyrospermol which is a natural sun protection filter. Nanoil Argan Oil abounds in active substances which:
rebuild skin's hydro-lipid barrier,
protect from the sunlight,
lessen and reduce scars, speeding up skin healing,
prevent the appearance of face lines and deep wrinkles,
halt photo-aging,
help treat acne and other conditions,
regulate the functioning of sebum glands, reducing secretion of face oil,
stimulate cellular respiration,
have a revitalizing, nourishing and hydrating effect,
boost skin's firmness and elasticity,
improve the skin tone.
On top of that, argan oil revives overprocessed, colored and bleached hair, strengthens, repairs, adds glossiness and leaves strands easier to detangle, restoring resilience at the same time.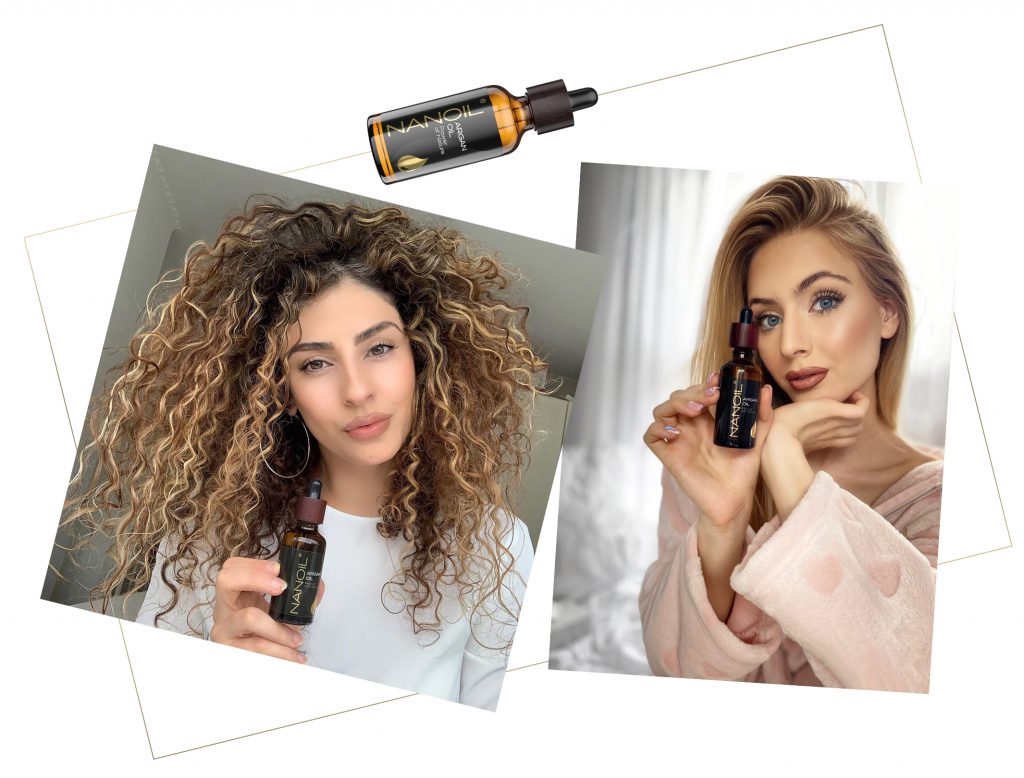 NANOIL argan oil is safe for everyone and the risk of allergic reactions is minimal. It is a perfect choice for people of all ages, regardless of skin problems. It can be used directly on the skin or as an addition to beauty products for boosted performance.
Thanks to exceptional properties, it is a foolproof product for aging or dehydrated skins, and complexions that need revitalization. NANOIL Argan Oil helps lessen acne, reduces scars and pigmentation marks, and evens the skin tone. It nourishes the body, soothes inflamed or sunburnt skin. Regular application of the oil will free you of cellulite, stretch marks and wrinkles, and you'll revive your skin, hair and nails.
NANOIL ARGAN OIL can be used as:
eye and face serum,
antiaging enhancer,
eyelash or eyebrow serum,
hand and foot cream,
make-up remover,
body cream,
anticellulite oil,
hair conditioner and serum,
lip balm.
DIY beauty products with argan oil
Feel free to mix NANOIL argan oil with other oils or favorite cosmetics and ingredients to create natural beauty enhancers. There are no limitations – experiment and create mixtures that will replace many drugstore products.

Anti-cellulite body scrub
Ingredients:
4 spoons of ground coffee,
4 spoons of grated cucumber,
a spoon of argan oil.
How to make it:
Mix the ingredients, dab the scrub on the chosen body area, e.g. thighs and buttocks, and start massaging. Next, wrap the body using a plastic wrap – take it off after around 20 minutes and rinse the body using warm water. For the 'wow' effects, use such a scrub three times a week.
Moisturizing face mask
Ingredients:
2 spoons of ground rolled oats,
a spoon of honey,
a spoon of argan oil,
a spoon of plain yogurt.
How to make it:
Mix the ingredients and put them aside for 3 minutes. Now dab the mask on the clean face skin. Rinse it using warm water after 20 minutes. If you've got extremely dry skin, then feel free to use the mask even every day.