Soap brows is the latest trend in brow styling, including styling and shaping eyebrows with the use of soap. It turns out that you can style your brow hairs precisely and achieve the effect of laminated brows using only this product! If you want to find out how your eyebrows are going to look with this kind of makeup, try Nanobrow Eyebrow Styling Soap which allows for easy and quick application!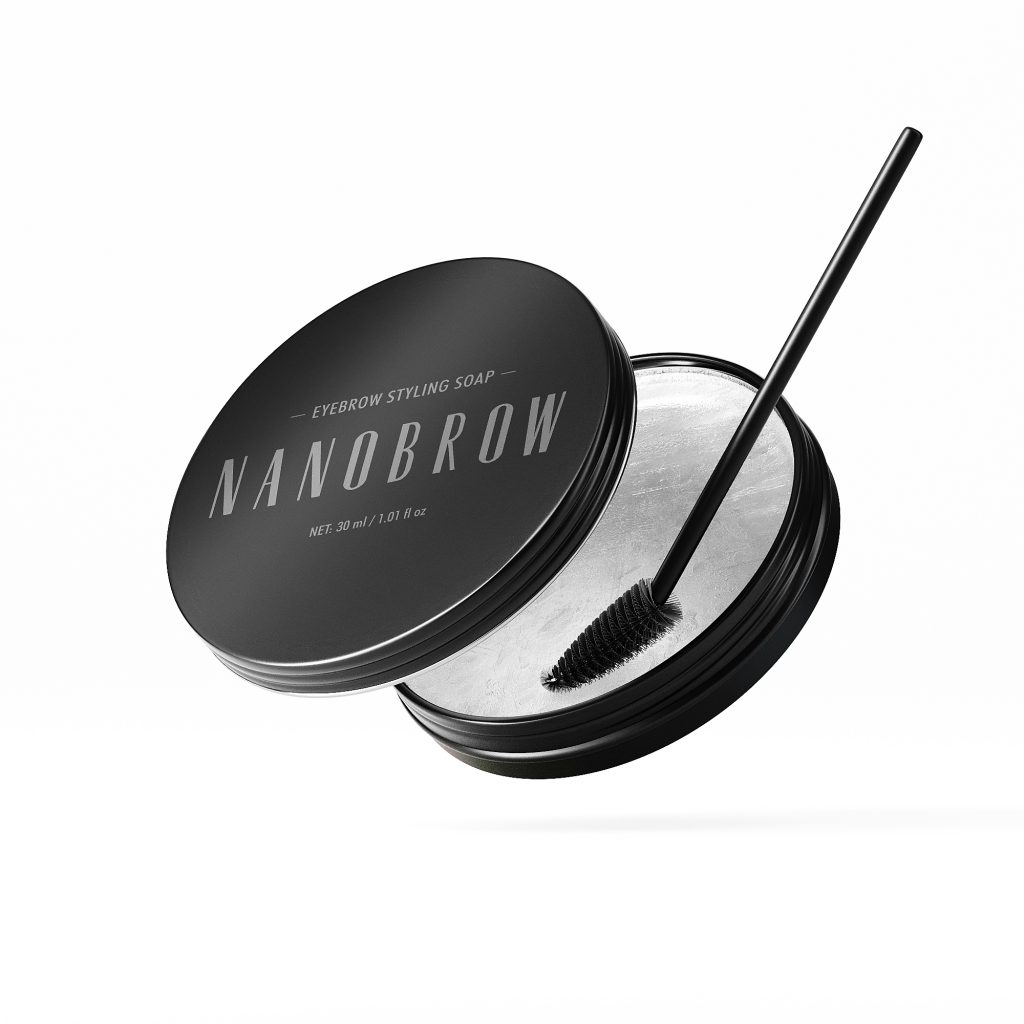 Nanobrow Eyebrow Styling Soap – a remarkable cosmetic
Did you know that Nanobrow is the most preferred brow soap out there? It's more convenient and easier to use than other traditional glycerin-based soaps because it doesn't require the use of water or other liquids. It's soft and malleable, ready to apply with a spoolie directly on the brows. It shortens the styling process and gives fantastic results. When using other soaps, you usually need to mix them with water to get the right consistency, which might be difficult as the soap can become too thick or too runny. With Nanobrow this problem goes away because it's prepared for you to use straight out of its container.
Soap brows – two ways of creating the trendy look
Did you know that brow soap lets you style your brows in various ways? Learn about the two ways of doing brow makeup with different outcomes.
1. Nanobrow soap brows – perfect everyday style
It's the quickest method, very easy and effective. You only need the Nanobrow soap and a spoolie to brush your hairs. How to do traditional soap brows? Simply apply a small amount of the Nanobrow Styling Soap onto the brow brush that comes with the set. Comb your hairs upward to give them the desired shape. As soon as the soap dries, the eyebrows will be locked in place in the right direction. That's all!
2. Nanobrow soap brows – a bolder makeup look
This stylization is more expressive, heavier and sharper. It doesn't have to be worn only for special occasions such as going out, although the soap brows are a great addition to evening makeup looks. If you wear eyeliner or eyeshadow regularly, soap brows will suit your everyday look as well.
It's as simple as any other brow makeup look. To create it, use the soap as specified above and when it dries, apply tinted brow makeup products on the eyebrows. A brow pen will be ideal because it lets you draw hair-like strokes (remember to draw them in the same direction in which your real hairs are brushed). With a pencil or a brow pomade subtly define the lower edge of your brow. It's worth knowing that you can also use the pomade and an angled brush to mimic brow hairs – this will visually thicken your arch and add more character to your look.
Nanobrow Eyebrow Styling Soap – what effects?
No other cosmetic gives this amazing result as the Nanobrow soap. If you dream of perfectly laminated brows – without actually laminating them – the soap will come in handy! You can create beautiful makeup in just a few moments: your brows will be perfectly-shaped and in great condition. The soap has a natural effect, so if you don't use many makeup products on a daily basis, Nanobrow Styling Soap is for you! Its gel formula coats your individual hairs and style them, enhancing their volume. The soap lasts all day long and doesn't leave a white residue on the brows. It's a fantastic way to create #soap brows!
If you need more information about Nanobrow Eyebrow Styling Soap, go to www.nanobrow.co.uk and learn more about high-quality cosmetics for brow styling, caring and makeup.