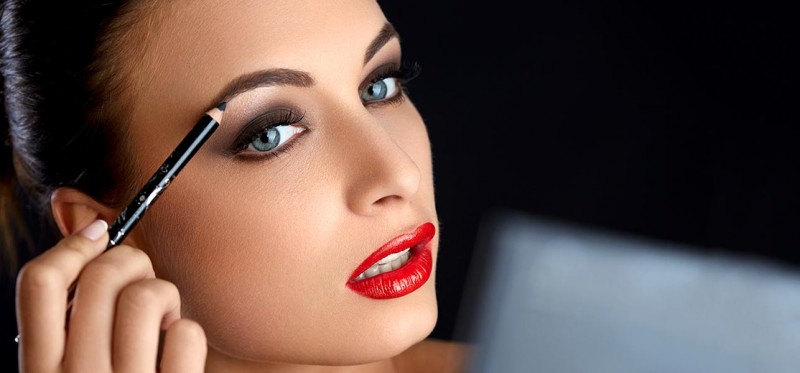 It is very simple. Bigger eyes look pretty and when brought out due to appropriate make-up, they will add charm to your appearance. Try out the below mentioned beauty tricks and learn how to make an impression of having bigger eyes.
Have you got small eyes, the ones with droopy eyelids? Do not worry anymore. There is a way to make them bigger. You do not have to undergo plastic surgeries or weird beautifying treatments. Suffice to apply appropriate make-up. It can really work wonders.
At the beginning, shape your eyebrows. If you want to make your eyes bigger then it is worth being aware of the fact that the length and density of eyebrows play a crucial role. Find a fairly long and straight stick, a pencil or any other similar item. Put it perpendicularly to the eyebrows, making one tip touch one side of the nose and the other tip the inner corner of the eye. Next, due to an eye pencil, mark the very place where the stick joints the eyebrow. The very same stick has to move a little bit further, joining the outer corner of the eye. Again, mark the very spot. Now, there is time for defining the curve of the eyebrow. Keep one tip of the stick on a side of the nose. Look straight ahead. The second point, where the stick has to be set, is the outer edge of the iris. Obviously, mark the spot alike. Match the dots. Certainly, hairs that grow outside the lines have to be removed. In order to do this, you can use tweezers. If you want to make your eyes bigger, use luminous or highlighting eyeshadows and pencils. Apply them on the inner corner of the eyes, spot right under the eyebrows and tip of cheekbones, right under lower eyelash line.
Draw a line covering ¾ of upper eyelid's total length. Mind you, the line should not start in the inner corner of the eye, yet right above the iris. Stretch the line above upper eyelid, moving it slightly upwards. Try to achieve similar effect on the lower eyelid. Take an eye pencil that has similar shade to your complexion and cover the water line with it. Enlarge the eyelid with a matte dark eyeshadows. Finally, coat your eyelashes with a black mascara. You can add more than just one coat.