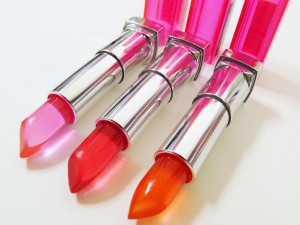 Everyone agrees on that 2in1 cosmetics are the best ones, indeed. One of such marvellous products is Color Sensational lipstick from Maybelline.
In order to make lips stay continuously healthy and pretty you have to take constant care of them. You can accomplish this by applying lip scrubs, moisturizing them, coating with a lipstick as well as applying numerous treatments and care cosmetics. Usually, you carry around you either a moisturizing cream or a transparent lip balm. Probably you tend to apply several layers of various cosmetics at once to provide your lips with right colour or protect them from either low temperatures or the sun. But in the end, all the layers wear off sooner or later. If you want to moisturise and provide your lips with a colour with just a single hand movement, give a go to Color Sensational lipstick from Maybelline.
Pick over the colours since there are sixty eight of them! Available are the shades of pink, brown, violet and red. The colours of packages are alike. Owning to high-quality pigments,  all the shades of lipsticks are very intensive. What is more, the colour holds long on lips. Furthermore, the products have light and cream-like consistency, which is why, they do not stick lips together, do not fleck and do not cumulate in the corners of the mouth. It is worth realizing that Maybelline lipsticks are able to do more than just colourize lips. Their second task is to provide protection and moisturization. Thanks to honey extract, they smooth lips making them soft and glossy. Basically, Color Sensational lipsticks are highly efficient.
Maybelline gives us a hint on how to apply Color Sensational lipsticks. Start the makeup from the upper lip. Coat its centre and work your way to the outer edges. Next, outline the lip contour. Repeat the procedure on the lower lip alike.