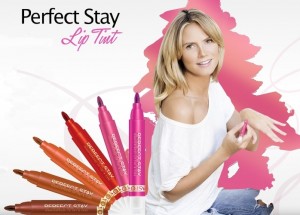 Fairy often a woman make-up bag is full of numerous cosmetics that somehow have to be  necessarily stored, all at once, in this small accessory. Obviously, in most cases there are a few extra products occupying the valuable space of the bag yet somehow we are not able to throw them away. If you would like to save up your make-up bag's room, change your lipstick, lipgloss and lipbalm into just one cosmetic – Perfect Stay Lip Tint by Astor.
It is often said that necessity is the mother of invention. Definitely, this dictum was taken to hart by Astor producers. As a result, they have introduced very practical cosmetic on the market. We do not have to fumble around the make-up bag or a purse in search of a lipstick, a lipgloss or a lipbalm any longer. What is more, this product does not only save our time and energy but also makes application of make-up easier. Instead of two or three cosmetics, Astor producers came up with one yet fairly practical and handy product – Perfect Stay Lip Tint – a lipstick that looks like a marker pen, which gifts lips with a colour, moisturization and gloss.
As mentioned before, the lipstick reminds a marker pen. As it is not hard to guess, it should be used alike – suffice to draw several lines on lips in order to obtain desired shade on lips. The other tip of the product is dedicated to colourless lipbalm, which nourishes lips and gifts them with gloss. Perfect Stay Lip Tint guarantees long-lasting effect and is waterproof. The colour stays true, neither gets smudged and nor leaves stains while eating or drinking. It is also worth mentioning that the product does not stick lips together.
The application is eased due to the marker-pen-like tip. It is good at filling the lips, as it is prefect for lip contouring. How to use Perfect Stay Lip Tint? First, cover lips with colour lipstick and then fix it with the colourless lipbalm. Again, the package looks like a marker pen and its tips are secured by two caps. What is more, this product is light and very comfortable to use. Last but not least, Astor producers took care of every women to enable them to select the right shade that matches the complexion, hair colour and clothing.