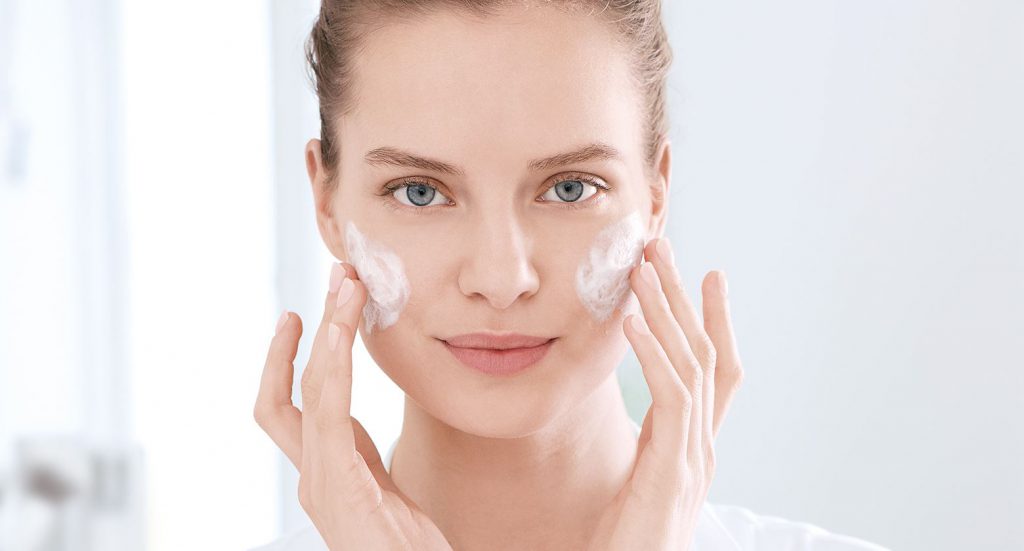 Undoubtedly, acne happens to be a very troublesome and hard to cure disease. If you have to struggle with it every day, keep reading this article to find out how to make this fight easier. Learn acne skin care tips and check out how you should apply makeup.
Cleansing acne skin type
Right in the morning, it is enough just to wipe the face with a gentle gel and then rinse it with lukewarm water. Evening beauty routine looks a little bit different. First, you should remove makeup using oil, cream or milk which residues are to be taken off with lukewarm water. Then, skin has to be cleansed with a gentle facial gel – the product must be detergent-free. Then, the skin must be washed with water again.
If your skin is too callus, introduce Konjac sponge to your evening skin care routine. Its porous and rough surface deals with impurities and dead epidermal cells marvelously. At the same time, Konjac sponge won't irritate your facial skin. When it comes to the frequency of use, it must be matched to your skin needs. After every washing, no matter if morning or evening, acne skin type must be dried up due to paper towel.
Skin toning
Right after washing facial skin, it must be wiped with a toner, and when the cosmetic dries up, you have to follow with another beauty product. The frequency of toner use should be set with a cosmetologist or dermatologist. In the case of resistant or non-dehydrated skin type, you can make use of the following types of toner with acids:
salicid – displays antibacterial and anti-inflammatory action;
azelaic – works antiinflammatory and prevents discolouration;
pyruvic – displays non-comedogenic and antibacterial action.
However, if your skin is dehydrated and sensitive, you should use hydrolates made of:
American witch-hazel – displays anti-inflammatory and antibacterial action.
Lavender – has anti-inflammatory and antiseptic action.
Peppermint – works antibacterial and refreshing.
It's important not to use cotton pads that might irritate skin. It's definitely better to pour a small portion of a toner to hands and pat it into skin. Basically, it's also a good idea to use a spray toner.
Acne-prone skin serum
If you struggle with acne, you should match a serum with your facial skin needs. You can find:
moisturising serum – used when skin is dehydrated and when its hydrolipid barrier is disturbed;
anti-inflammatory serum – destined for sensitive and irritated skin, it contains either chamomile or arnica montana extract;
skin healing serum – needed to treat skin inflammations, it contains aloe, pot marigold and snail slime;
sebum control serum – reduces hyperactivity of sebaceous glands thanks to witch hazel, niacinamide, licorice and yeast;
antioxidative serum – protects from free radicals and reinforces the natural protective barrier thanks to vitamin C, green tea and grape extract.
Acne-prone face cream
Day cream should contain sunscreen. If the external protective layer is damaged, then it's recommended to use creams that prevent water from evaporating. In other cases, you can go for using a light face cream. Night cream can fulfil the same tasks as a cream used in autumn and winter.
Makeup for acne-prone skin
The best version of acne-prone makeup is the one which is done with mineral cosmetics. This group of products doesn't irritate skin or clog skin pores. Instead, they soothe inflammations. However, if your skin is dehydrated, it's highly possible that the mineral beauty products might cake and dehydrate skin even more. Basically, you should stay away from heavy and thick drugstore foundations that clog skin pores. It's better to use light BB creams that display conditioning, beautifying and camouflaging properties.