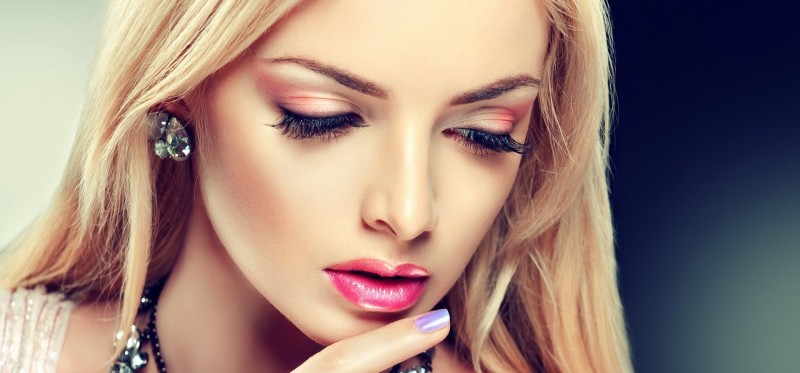 As people tend to say 'It doesn't matter what you look like on the outside; its what's on the inside that counts.' Yes, this is true that our physical appearance does not, in most cases, determine whether we are liked by people around or not. On the other hand though, men are believed to be 'visual creatures'. At least in a greater degree than women are. Therefore, when a man meets a woman, the very first thing he notices, and what is important for him, is the face of hers. (Obviously, without excluding the other typically female features, which are also compelling for males.)
It is believed that men do not notice makeup worn by women. To clarify, if you have fatigued and tired eyes, there is a greater possibility that a man will notice this then the fact that your mascara has left stains on your eyelids, or that the eyeshadows have worn off. So what is the point of applying makeup? Firs of all, an event. After all, you will not go to a club or for a New Year's Eve without makeup on. Secondly, the necessity of not being just one in the crowd. Strong and extravagant makeup helps everybody with noticing you. Remember though, do not overdo with the makeup since you would not like to scare people off. Thirdly, makeup can work miracles. With the aid of either a concealer or a foundation, you can camouflage all skin imperfections and, consequently, improve your general appearance.
There are a few rules of makeup that have to be followed in order to attract men. It is worth giving a go to smoky eye, especially when your eyes look tired or simply when your eyelids are droopy. In short, smoky eye makes it easier for you to produce elegant look. Certainly, this kind of eye makeup works well at every party. What is more, men are also for natural eyebrows. These look way better then oddly shaped, thin eyebrow-like lines. After all, thin eyebrows have to be defined with an eyebrow pencil. And the ones, located high above eyes look simply ridiculously. What is really alluring are cat eye makeup and a red lipstick. These two elements of makeup always improve sex appeal.
What types of makeup do men find attractive?
First and foremost, naturalness and simplicity. Makeup no makeup is similar, or almost identical, to one's beauty type and the complexion. It brings out women's assets in subtle way and camouflages all skin imperfections. How to apply makeup no makeup? Start with hiding all acne, spots and discolourations with a concealer. The remaining part of the face has to be coated with a foundation and a mattifying powder. If you want to gift your skin with healthy shine, use a scant amount of a luminizer. Shades of the concealer, the foundation and the powder have to match your skin tone – they have to be one tone brighter than your complexion. Let us move on to the eyelids. These should be covered with nude eyeshadows. Undoubtedly, eyelashes have to be mascaraed. A thin layer of a lipgloss should be applied on mouth.
Secondly, strong eyes and lips. Elegant and sexy makeup will make men stare at you with admiration. Obviously, start with applying a foundation and a powder. Basically, you should get rid of all skin imperfections. Next, apply smoky eye. You can also add an eyeliner if you like. Thanks to this, your eyes will be more defined. Do not forget to cover your lips with a red lipstick. Nevertheless, there is one simple rule – either strong eyes or lips, never both at the same time. To demonstrate, if you decide to apply heavy smoky eye, then go with a nude lipstick. On the other hand, if you feel like wearing a red lipstick, apply nude and delicate version of smoky eye.
Subtle, girlish and romantic makeup. A little bit visible yet done with the use of natural colours makeup will definitely win men's favour. It will make you look healthy and radiant. Try to highlight the complexion with a foundation or other similar cosmetic. Apply a blusher and a pearl eyeshadow. Coat eyelashes with a mascara and define lips with a transparent lipgloss.
Which type of makeup are you going to chose for today's date?