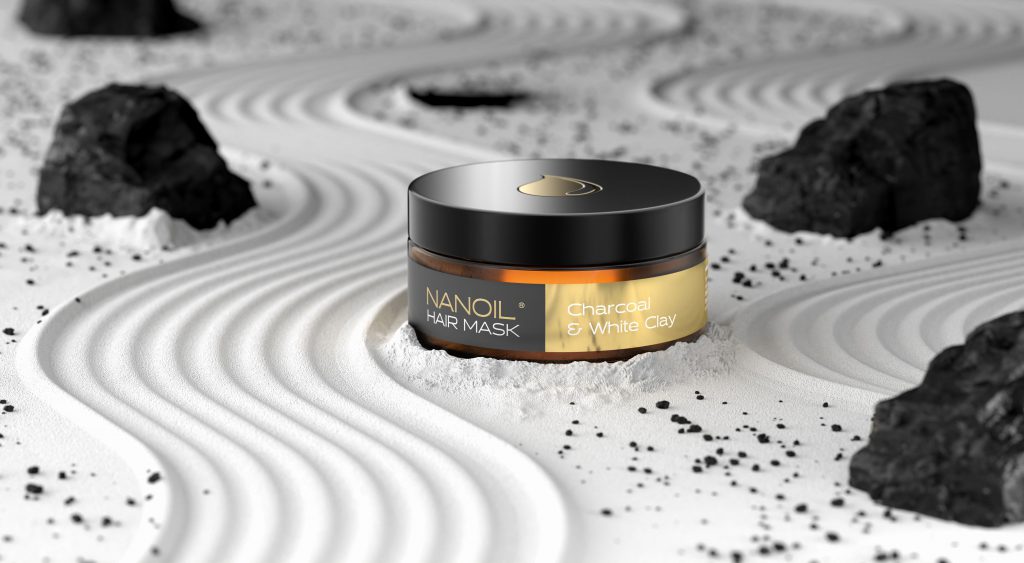 Hair cleansing and reconstruction. Protection and strengthening. Nanoil, Charcoal & White Clay is an exceptional hair mask – it's like the yin and yang of complete and efficacious hair treatment. And this is owed to the harmonious duo of ingredients: black charcoal and white clay.
Nanoil keeps surprising us. This brand again offers us another product that satisfies the needs of many. A perfectly composed product that doesn't only improve the looks of hair day by day, but also week by week it restores the balance to scalp. And this is the very balance and harmony that make up the core of naturally beautiful hair. Are you curious what "Yin&Yang for hair" means? Go on reading!
Nanoil, Charcoal & White Clay hair mask: The harmonious care you need
Each woman equals other hair type and other needs to satisfy. Some tresses are dehydrated, whereas the others get oily too quickly. Sometimes the scalp is irritated, but not all of us are affected by this ailment. Yet, there is one thing that connects us all – we need harmonious hair care. It can't be denied, in order to remain beautiful, hair needs to be provided with equal amounts of four things: moisturizing, nourishment, cleansing and protection.
View this post on Instagram
Nanoil hair mask with activated charcoal and white clay was developed to handle this task – to supply the strands with all the essential nutrients, take care of them, strengthen as well as freshen up and safeguard the tresses from everything that may do harm to them, e.g. urban pollution. This is an incredibly lightweight and efficacious cleansing hair mask that will leave you astonished at first use. How so?
Cleanses scalp and creates the pleasant sensation of fresh scalp.
Eliminates persistent dandruff and scalp itchiness.
Reduces the problem of oily hair.
Is antibacterial and anti-inflammatory.
Nourishes and maintains adequate hydration levels in hair.
Makes hair visibly stronger, improves its resilience and smooths it out.
Eases detangling and styling.
Yin Element in Hair Care: Soothing white clay
One of the two key ingredients in Nanoil, Charcoal & White Clay is so-called kaolin, commonly known as white clay. In this duo it can be compared to the Yin – the gentle, light and soothing side of hair care.
How does white clay benefit your hair? This is the gentlest of all types of cosmetic clay. On the hair, white clay works as a cleansing agent but most of all it soothes scalp, relieves inflammation and reduces irritation. White clay in a natural way to restore pH balance to skin and deal with seborrhea.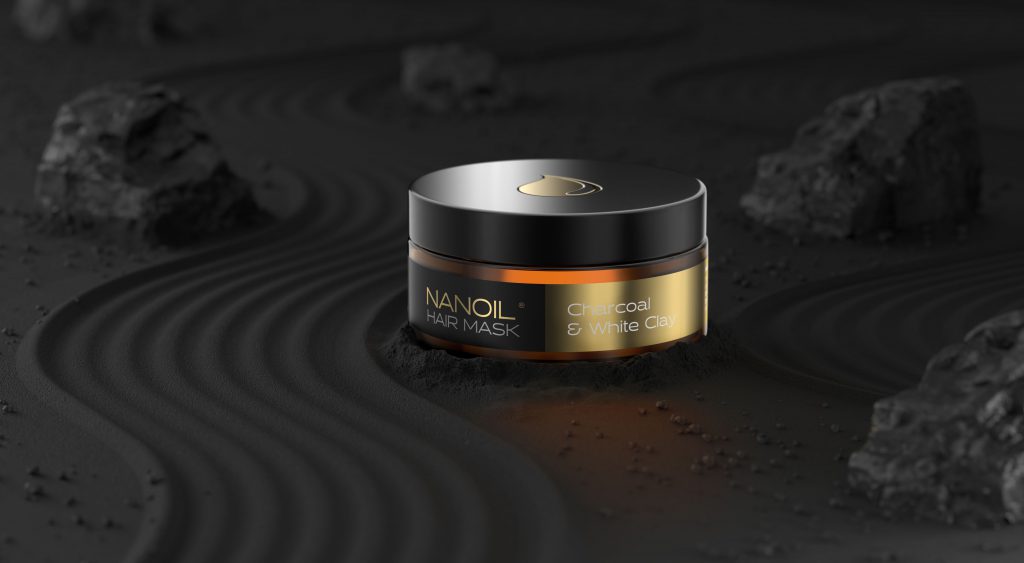 Yang Element in Hair Care: Deeply detoxifying activated charcoal
The other ingredient used in Nanoil, Charcoal & White Clay is activated charcoal. Not only due to its black color but also owing to its way of working, it resembles the Yang – the energetic and strong side of hair care.
How does black charcoal benefit your hair? This is a substance that has a relatively short history in cosmetology. It wasn't that long ago when we found out that there is a great potential hidden in this natural substance – it offers deep cleansing. It helps us remove excess sebum, dust and other grime that has built up on hair. Apart from that, charcoal is antibacterial and combats harmful toxins by absorbing them and neutralizing the negative impact they have on the hair.
What are other constituents of Nanoil hair mask with black charcoal and white clay?
Naturally, these aren't the only ingredients used in this cleansing hair mask by Nanoil. Harmonious hair care also includes nourishment, hydration and protection therefore Nanoil, Charcoal & White Clay also contains: vitamin A, vitamin E, panthenol, sea algae and sericin. Each of these ingredients separately helps to keep the balance among scalp and hair cleansing as well as making the hair prettier and stronger.
If you want to introduce the perfect balance to your daily hair routine, try using Nanoil, Charcoal & White Clay Hair Mask today. This surprisingly lightweight hair care product doesn't weigh hair down but supplies it with everything that the strands need to grow healthily. Ease of use, high efficiency and affordable price are other strong suits of this product.
Wish to learn more about the "Yin&Yang for hair" and other Nanoil hair care products? Visit www.nanoil.co.uk