Similarly to our skin, our hair also ages. Therefore, its care should change slightly with the passage of time. Mature hair requires delicate care and strong nourishment. Dove Pure Care Dry Oil provides such conditioning – nourishing oil with pomegranate seed oil for mature hair.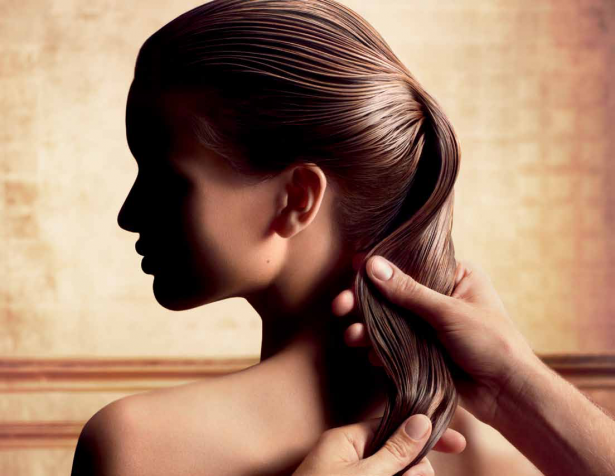 A lot of positive things can be said about pomegranate seed oil. Its anti-ageing properties are the most noticeable. Natural pomegranate oil is getting more and more common in hair products due to its nourishing and moisturising qualities. It is the source of lipids, polyphenols, vitamin E and unsaturated fatty acids thus it is perfect for weak mature hair.
Dove – Restorative Treatment with Anatolian Pomegranate Seed Oil
Dove is one of the cosmetic brands which have used pomegranate seed oil in their products. The oil is the basic ingredient of the restorative treatment for mature hair – it protects, repairs and conditions effectively. What is the action and ingredients of Dove Pure Care Dry Oil?
Ingredients and action of Pure Care Dry Oil with pomegranate seed oil.
Pomegranate seed oil plays the key role of anti-ageing ingredient. It contains 70% of punicic acid which slows down the signs of hair ageing (e.g. excessive hair loss, baldness, dryness, dullness). It has been enriched with a few extra oils which enhance the repair, nourishment, moisturising and strengthening of mature hair:
– coconut oil,
– sweet almond oil,
– sunflower oil,
– palm oil,
– macadamia nut oil.
Apart from the oils, Dove Pure Care Dry Oil Restorative Treatment also contains sunscreen and several additional ingredients (e.g. silicones) which don't weaken the action of the cosmetic and don't harm the hair.
Dove, Pure Care Dry Oil, Restorative Treatment
Dove Pure Care Dry Oil with pomegranate seed oil looks like an effective cosmetic. It has a sweet fragrance and is honey-coloured. A pump makes the application easier and 100 ml of the cosmetic holds out very long. Dove Restorative Treatment can help in three ways: applied to wet hair before washing; applied to clean and dry hair; added e.g. to a hair conditioner.