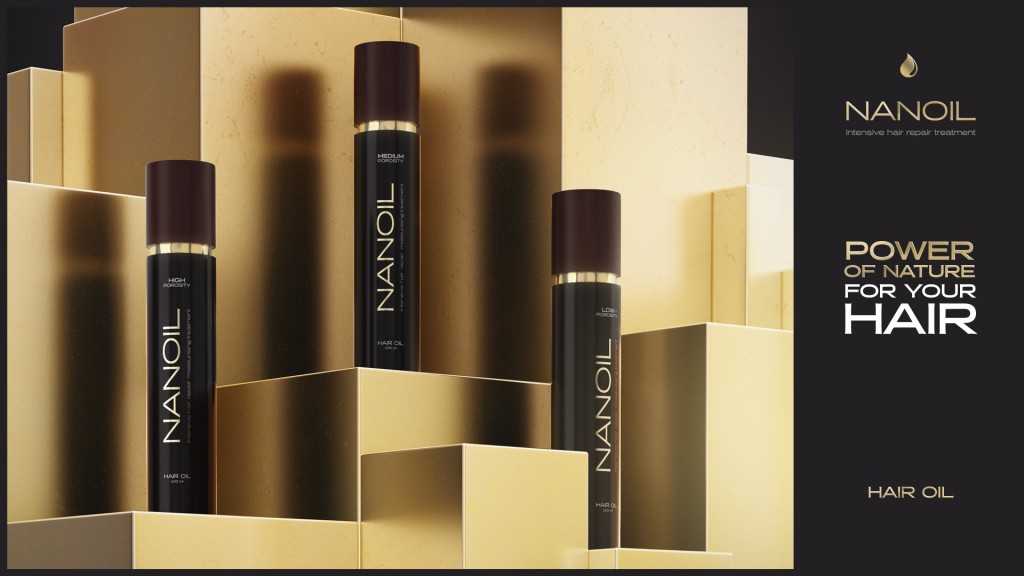 Hair care can be nice, easy and effective. Nanoil hair oils are the best proof that natural ingredients provide enormous powers. Simply embrace that power and seal it in an elegant bottle. This is how you obtain a product like Nanoil – luxurious, full of natural components with stunning effects.
The trend of hair oiling has not come out of nowhere. More and more women are willingly reaching for natural oils to use in their everyday hair care. They are following the lead of Asian women. The tradition of hair oiling derives from India, where oils allow to maintain proper hair hydration, prevent water loss and protect against harmful sun radiation in a scorching hot climate.
Nowadays, we are all aware of the fact that oils have unbelievable potential. No wonder that cosmetic producers decide to use them in their products. What properties do oils have to offer? Applied regularly to scalp, oils can really work wonders: they moisturise, replenish nutritional deficiencies, regenerate, give shine and velvety softness, improve resilience, reduce brittleness, protect against harmful agents, strengthen from roots to ends, prevent split ends, inhibit hair loss, boost hair growth, and even eliminate problems such as dandruff, oily scalp, frizz or static. This is one of a few such multifunctional substances that we can obtain directly from nature.
NANOIL – get the key to beautiful hair
Nanoil oils for hair of different porosity is a novelty on the cosmetic market. The product is not based on synthetic ingredients with names that are difficult to pronounce. Innovation is hidden in carefully selected oils that are perfectly matched to hair porosity. Nanoil is a combination of vegetable oils of ideal proportions of fatty acids that contain precious nutrients and many valuable protective ingredients. No other product approaches hair care is such a precise way. All three Nanoil oils are the answer to the needs of hair that has different porosity. They require the support of oil with various content of fatty acids.
Worth knowing!
Hair porosity is the level of hair damage, which is determined on the basis of the condition of the outer hair structure. Healthy hair has tightly bound cuticle layer with overlapping scales – low porosity. Damaged hair has gaps and holes in the cuticle – high porosity. In the middle, there is weakened hair of medium porosity.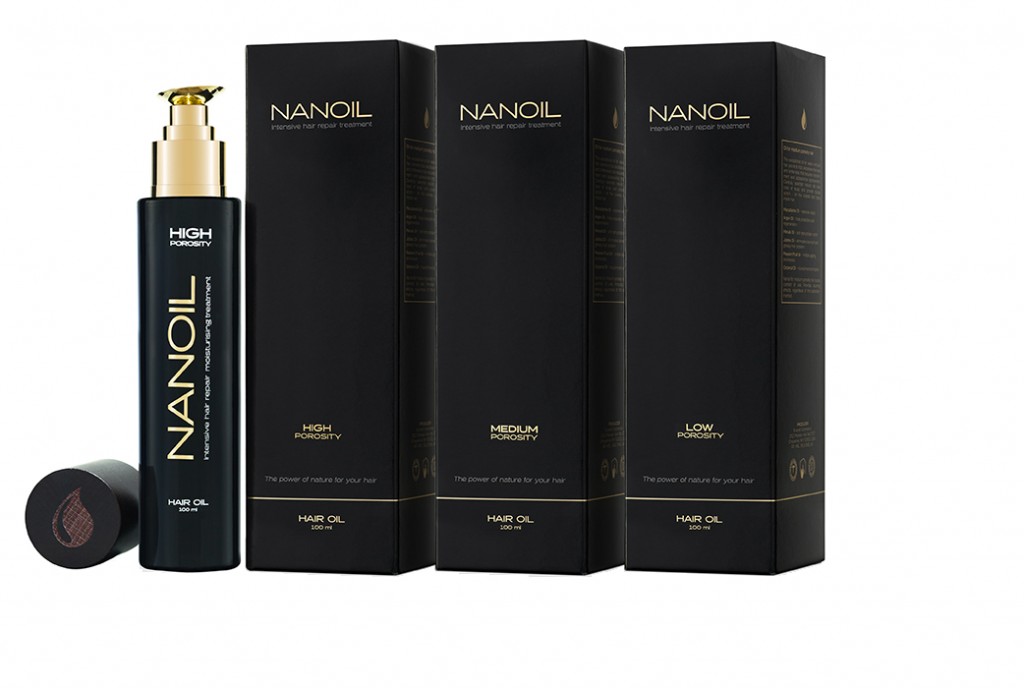 Each type of hair requires different kind of care, varied components and more, or less, effort. Therefore, hair oiling is the best treatment that you can perform in the comfort of your own home. Strands that are naturally more difficult to style will be fond of lighter oils and oiling with a mist. Extremely damaged wisps need strong regeneration, preferably by hot oil treatment. However, the struggle with dandruff will be solved with the use of oil responsible for regulating scalp functioning. It is all possible with Nanoil.
The success of Nanoil hair oils series includes perfect selection of natural oils and vegetable butters, which are enriched with necessary additional components. Their action is based on a detailed analysis of the structure of human hair. Effective care is the one that begins in the scalp. It is known that external protection, smoothing and hair radiance are also important. It is all given by Nanoil. However, they are better than other hair care products because they solve the problem of hair poor condition instead of camouflaging it.
NANOIL FOR LOW POROSITY HAIR is the perfect solution for people with hair that is usually straight, heavy, difficult to style (for example, uneasy to create curls), exposed to harmful sun radiation and high temperatures. It comprises:
cedar oil – normalises scalp pH and the work of sebaceous glands
coconut oil – protects hair fibre
argan oil – provides strong thermal protection and antioxidant properties
castor oil – boosts hair growth, preserves colour
shea butter – prevents water loss
maracuja oil – slows down cell ageing processes
babassu butter – facilitates combing and styling without overburdening
monoi oil – protects hair from damages
cupuacu butter – provides resilience and revitalising properties.
NANOIL FOR HIGH POROSITY HAIR will work well whenever you need strong regeneration because your hair is damaged, brittle, split, dehydrated, frizzy and static. This oil consist of:
sweet almond oil – smooths and prevents brittleness
argan oil – repairs hair structure deficiencies
evening primrose oil – improves scalp condition, prevents water loss
avocado oil – prevents frizz, enhances radiance
maracuja oil – regulates sebum secretion
cotton seed oil – a remedy for split ends.
NANOIL FOR MEDIUM POROSITY HAIR is a product dedicated for women whose hair causes troubles, has the tendency to brittling, becoming dull and splitting. On top of that, its condition significantly worsens which is very difficult to control. The product includes:
macadamia oil – adds shine, resilience and nourishment
argan oil – protects against hot temperature
marula oil – strengthens hair natural protective coating, moistuises
jojoba oil – regulates sebum secretion, heals dandruff
maracuja oil – prevents frizz, softens and tames unruly strands,
coconut oil – protects hair ends
In addition to so many natural oils contained in the Nanoil products there are also two precious ingredients – Kerastim – prevents hair loss and Baicapil – stimulates its growth. What is more, you will also find vitamins essential for hair (strengthening vitamin A and antioxidant vitamin E), silk, UV protection, panthenol, keratin and lanolin responsible for providing softness.
Take care of your hair the way you want!
Hair Care with Nanoil is effortless and does not take much time. This is the only oil that provides various possibilities of application. Unlike other hair care products, we can apply it to hair and / or scalp as we want and whenever we feel the need to. Nevertheless, do not forget that regularity of application, which provides long-lasting and visible results is extremely important. Nanoil can be used:
on dry or damp hair from the middle of their length downwards,
only to rub into the scalp,
as a styling primer,
in overnight hair oiling, for an in-depth regeneration,
even several times a day, eg. in the form of a mist,
as an additional supplement or lotions,
for a few minutes or hours before shampooing.