Eyelashes need support. Every day they are getting weaker and weaker due to improper make-up removal, being coated with mismatching colour cosmetics, and even by being exposed to adverse weather conditions. Are there any products which can help us reinforce eyelashes?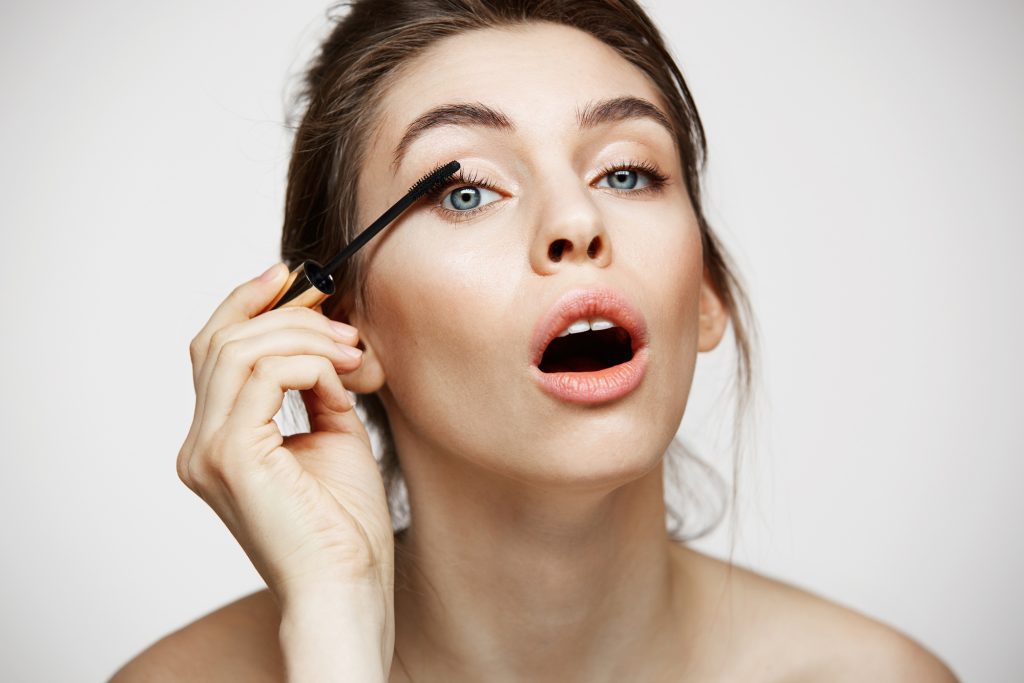 Why do we tend to forget that eyelash care is crucial? We run away with the impression that we can't harm our lashes. After all, they don't split as the hair growing on our head does. Seemingly innocent actions of ours, with time, might translate into eyelash bulb weakening and excessive eyelash loss.
Which eyelash care products are worth having? Here is a short eyelash care cosmetics overview for you to get acquainted with. The following products help lashes preserve their health and bring their natural beauty out. And this is possible without doing any harm to eyelash structure and without having false eyelash extension procedure carried out.
EYELASH OIL
Very often it's a natural castor oil that is recommended to treat eyelashes with. Olive oil is considered as castor oil's slightly lighter version. Both substances provide the delicate hair with reinforcement because they: nourish, replenish with lipids and water as well as deliver gloss. For that reason, it's worth applying a natural oil to lashes once in a while.
EYELASH SERUM
Intensive eyelash reinforcement can be delivered only by a concentrated eyelash serum. Strengthening eyelash conditioner is a must-have of any makeup bag. Daily eyelash care is crucial and essential to preserve good state of the hair. Thanks to this, we will do more than just strengthen, moisturise, nourish and protect the lashes from destructive factors. Eyelash serums primarily deliver growth stimulating action. Owning to them, eyelashes become stronger, extended, thicker and more elastic which significantly facilitates coating lashes with a mascara. Therefore, instead of overburdening lashes with beauty treatments such as false eyelash extensions, it's definitely better to take care of them in a comprehensive way by applying an eyelash serum.
MASCARA PRIMER
Day-to-day mascara application may pose quite a quest for eyelashes. Due to sorption, the delicate hair drinks in almost everything which a particular mascara is made from (including toxic substances, if a mascara is of a doubtful quality). A mascara primer doesn't only reinforce lashes but also makes them ready for mascara. Also, such a cosmetic is recognized for providing protection to eyelashes.
MASCARA
An irreparable eyelash cosmetic is a mascara. Probably no woman forget about applying this product since just one coat put on hair surrounding eyes fulfils the dream of having beautiful, long and enhanced lashes. At least temporarily. However, we have to remember to use a high quality mascara so as not to harm lashes. Therefore, it's better to choose conditioning mascaras, which additionally are able to supply lashes with extra nourishing substances. Moreover, it's wise to leave waterproof mascaras for special occasions only and don't use them every day. It's also important to realize that a mascara should be replaced with a new one every three months because this product loses its features after approximately 90 days.
MAKE-UP REMOVING LOTION
The last but not least cosmetic with is recognized as highly important is a make-up removing lotion. The good news is that you don't have to buy a separate cosmetic designed only to wipe eye make-up off. However, it's worth being sure that the product we use has light formula and features a set of nourishing substances. Actually, instead of using a special make-up removing preparation, you can go for using natural oils which are good at getting rid of colour cosmetics that are even waterproof. Also, they supply lashes with additional nourishment.