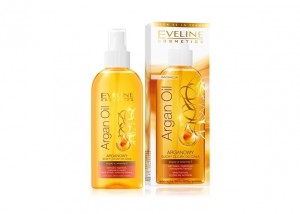 Eveline introduces a new collection of hair care cosmetics – Eveline Argan +Keratin 8 w 1 Liquid Silk. The set is composed out of several hair washing, nourishing and fixing products. Two active substances that are present in each and every product, comprising the +Keratin 8in1 Liquid Silk collection, are keratin and argan oil.
Argan oil and keratin – What are they?
Cosmetic argan oil has pail colour. What is more, it has got plenty of features which affect condition of our hair positively. Primary, this natural cosmetic moisturises, smooths, gifts strands with gloss as it prevents split ends. What is more, argan oil is responsible for prolonging lifespan of hair, strengthens hair roots and protects hair from low and high temperature.
When it comes to keratin, this substance is used for hair straightening treatment performed at a beautician's. Its manner of working can be compared with working of castor oil. Basically, it improves hair condition (fingernails, eyebrows and eyelashes as well), rebuilds outer structure of hair, prevents dehydration, boosts volume and protects hair against mechanical damages and external aggressors.
Eveline cosmetics Argan +Keratin 8 w 1 Liquid Silk collection
Eveline Argan +Keratin 8 w 1 Liquid Silk collection comprises of five care products. These work in eight areas focusing on hair rebuilding. The shampoo's aim is to regenerate, nourish and moisturise hair. What is more, the product is able to restore elasticity and boost volume of strands. Liquid Silk, that enhances working of keratin and argan oil, gifts hair with smoothness and gloss. Moreover, the shampoo is destined for damaged hair that requires special treatment. A vitamin and natural burdock root oil, included into the spray's composition, prevent dandruff as they stimulate hair growth, restore hydro and lipid balance of scalp. The oil is recommended for dyed and super greasy hair. You can apply it on before hair washing, just after doing it or after styling. When it comes to the conditioner, it enhances working of the shampoo. It has to be applied to the length of the hair, starting from roots working the way to the ends. The product can be rinsed after 10 minutes. It is crucial though, to use lukewarm water to facilitate closing all the hair shafts. Eveline also offers the hair mask. In order to fix the hairdo, we can use the last component of Argan +Keratin 8 w 1 Liquid Silk collection, Extra Strong Gum. This product has five degrees of hair fixing. The desired effect holds up to 12 hours.
Products from Argan +Keratin 8 w 1 Liquid Silk collection may be used individual. Yet the best effects are obtained when the cosmetics are used together, as elements of the complete treatment. Therefore, try to use Express Multifunctional Regenerating Conditioner 10in1, Hair Rebuilding Elixir Art Stylist Professional 8in1, Liquid hair silk, Extra Strong Gum, Argan Conditioner 8in1, Argan Shampoo 8in1, Argan Hair Mask 8in1 to bring back life to your damaged strands.