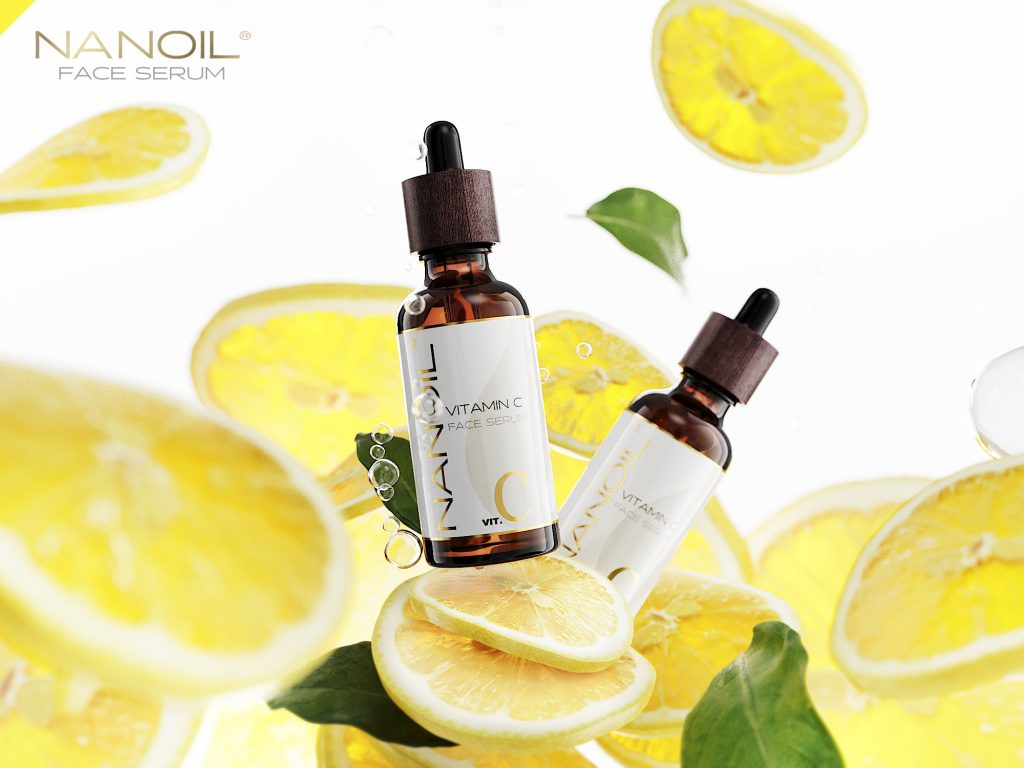 It takes just one application to restore glowing and fresh-looking skin – just as if you took full 8-hour sleep. Would you like to enjoy healthy and naturally glowing skin? Do you want your face to look young and flawless? Reach for a serum that nourishes deeply and leaves skin stunning – choose vitamin C by Nanoil. Why this "ordinary" vitamin is so… extraordinary?
Ordinarily extraordinary. Phenomenal vitamin C
Most of us associate vitamin C with a marvelous food supplement responsible for boosting our immune system. However, just few know that this essential nutrient is also a very potent cosmetic that improves the health of skin and stimulates it to repair itself. It's vitamin C that regenerates skin and leaves it radiant and smoother-looking after just one application. Over time vitamin C improves skin quality significantly by reducing fine lines, removing discolorations and other blemishes, it evens out skin tone and makes you flourish. If you haven't had a chance to use its power in skin care, don't worry! We know a fine cosmetic that includes the best form of vitamin C.
Stable or unstable? Which form of vitamin C to choose?
In its original and pure form, vitamin C is rather unstable. This means that it breaks down faster than it penetrates deeper into skin. This in turn impedes us from making use of the full potential that vitamin C has, and therefore cosmetologists together with scientists put a lot of effort into "taming" ascorbic acid and synthesizing it to a more efficient and stable form.
Nowadays, the finest form of vitamin C carries the following name: 3-0-Ethyl Ascorbic Acid. This is the purest and the strongest vitamin C that is able to deliver profound effects in skin care. On the top of that, 3-0-Ethyl Ascorbic Acid equals stable compounds of vitamin C which means that it penetrates skin fast without breaking down or oxidizing. This form of vitamin C is used in Nanoil face serum.
Vitamin C face serum by Nanoil. The best, tailored to your complexion
Nanoil face serum is the most effective skin care product of this kind available currently on the market. It's formulated with the best form of vitamin C and other high quality components. The improvement in skin condition can be noticed already after first use of Nanoil Vitamin C Face Serum: even skin texture, skin brightening and energy boost for your complexion.
Nanoil Vit C is a youth cocktail that replenishes skin with moisture and leaves it healthy and glowing. Owing to its ability to encourage the synthesis of collagen, which is the main protein responsible for youthful appearance of skin, Nanoil Vitamin C Face Serum effectively reduces wrinkles and visibly improves skin resilience.
Nanoil prepared for us a highly effective antioxidant complex enriched with an array of ingredients that for example help active substances reach the deepest skin layers. This well-developed composition and high quality components make Nanoil Vitamin C Face Serum an efficacious face serum that receives many favorable reviews from its users.
All benefits of Nanoil Vitamin C Face Serum
Perfect formula, absorbs easily
The finest form of vitamin C – stable and efficacious
Doesn't roll up on face
Vegan and vegetarian frenziedly
Leaves skin brighter and glowing
Radiant skin just like after 8-hour sleep
Even skin tone; complete reduction of discolorations over time
Removal of skin imperfections including fine lines
Resilient skin
Perfect for night and morning application
Can be applied prior to makeup
Vitamin C face serum by Nanoil. Where can you buy it?
One of the most reliable sources of Nanoil Vitamin C Face Serum is the official Nanoil website. Obviously, the official Nanoil store offers more skin and hair care products. For example, you can enrich your daily beauty routine with natural oils that in fact produce outstanding effects when applied prior to a night face cream or when used in the role of face cleansers.
Visit nanoil.co.uk and find the perfect face serum for you. Read the comments of satisfied women who chose Nanoil. Reach for the face serum that will finally live up to your expectations.