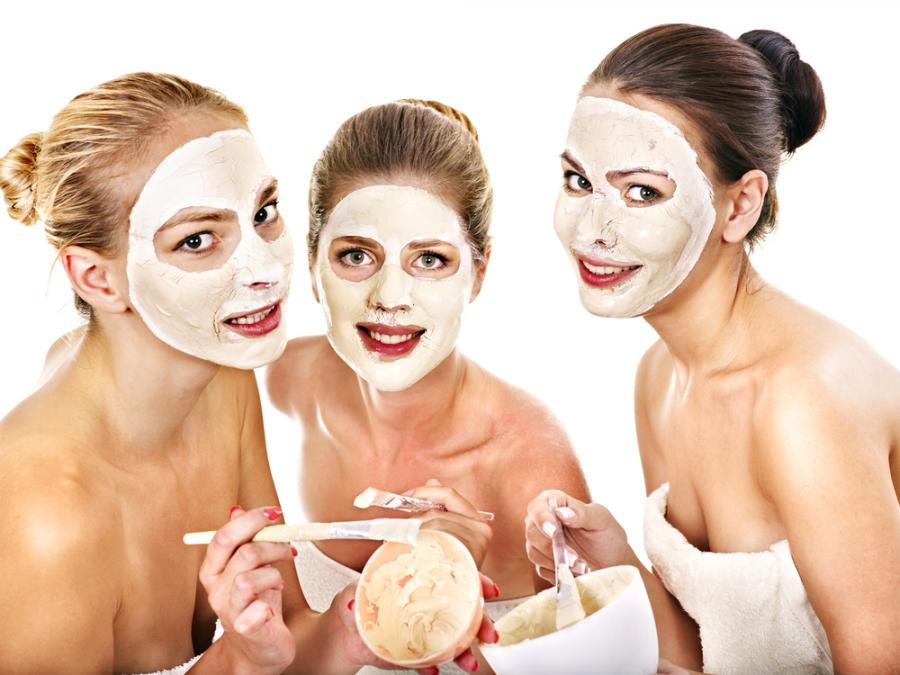 Obviously, in the eyes of a friend, you're always beautiful but sometimes it is worth taking care of said beauty and nothing's more refreshing than friends filled evening, PJs, facial masks, good movies, and even better mood. It sounds like a perfect meetup for your beauty! Check out below what you will need to have fun in a BEAUTIFUL style.
It is even better than the spa and most certainly is more affordable. It turns out, you do not need to pay a few hundred bucks for an expensive treatment, you just need the right cosmetics and you can spend some time together in the comfort of your own home. Which cosmetics will you need for this magical evening?
1. Samples – it is something that can put you all in a good mood. Samples are cheap and you can get a lot of them to take care of your entire body and try something new at the same time. Order all sorts of samples, from hand creams, hair oils, cosmetic clay to perfumes, ampules, etc. If you decide on making your own cosmetics, agree on what kind of cosmetics you will make and collect all the necessary ingredients to concoct it.
2. Natural oils – your evening care cannot be short of natural oils – the obvious king is argan oil, but if there is some other natural oil with the high quality you want to try, you can use it for facial masks, exfoliators or feet bath. Oils happen to be also perfect for nails care because they moisturize, repair and protect nail plate restoring its former glory.
3. Essential oils, candles, mood, and fragrance – it is yet another thing to make your beauty-themed get together a great experience. Burn some joss stick or add a few drops of essential oil mixed with water to perfume burner.
4. Light snacks – during such evening you're bound to be hungry. We advise against choosing unhealthy and stodgy foods and suggest going for light and delicious salads, vegetable juices, smoothies, and aromatic herbal teas. Prepare healthy snacks that are colorful and nutritious, make your own natural ice cream and add strawberries to the list. This menu will guarantee pleasant evening and colorful foods will be easy on the eye.
Beauty themed evening – which treatments to try with the friends?
1. Rescue for tired feet
Feet are usually the last ones on the list. In the meantime, you have no idea how much they really need a break until you dip them in a hot relaxing bath. Good company plus a tv series is a great moment for feet to relax. Tired feet like bubbles so prepare a bath with some fizzing bomb or salts.
2. Positive vibes – fragrances
Do you enjoy testing new perfumes? It is a perfect idea for the meetup – smell delivers plenty of positive stimulation so you should get perfume samples. These can be fragrances you always wanted to try or novelties of famous brands. Gucci Envy, Chanel No. 5, Miss Dior, and Opium YSL wait for your noses! It is an amazing idea to go on with a theme such as bringing your favorite perfume and share the story behind it.
3. Cosmetics for your hands
Beauty ritual for your hands is perfect for an evening with friends, do the exfoliation, apply nourishing cream – thick layer is a must, then put on cosmetic gloves. You can also just dip hands in warm water with the addition of natural oil and lemon. This mix makes wonders!
4. Facial treatments
Exfoliation – it is good idea only if you avoid regular exfoliators which would require all of you to crowd in front of a bathroom mirror. It is best to get samples of enzymatic gentle exfoliator which you apply to the face and leave for 15 minutes then remove with a cotton pad.
Facial mask – the best face mask for friends filled meetup? Obviously the sheet mask with funny animal imprints! Take a selfie as a reminder of these moments together.
Another thing to try is gel under eye pads or sheet masks, for example, such as masks with lacing. A photo of it is a must.
5. Hair oil treatment – since you already have natural oils, you can now apply it to the hair. You can go crazy and put it on the entire hair length or just to the tips alone.
6. High-quality serum – during the night skin needs some extra care and after all, you all do not intend to sleep so serum for the face with highly nourishing and revitalizing action is something you will need. The perfect serum should contain vitamin C because it fits the skin of all types and ages. It lightens, makes skin prominent and makes it look rested and taken care of. After applying the serum, remember that moisturizing cream or under eye cream should follow. Have a great evening!