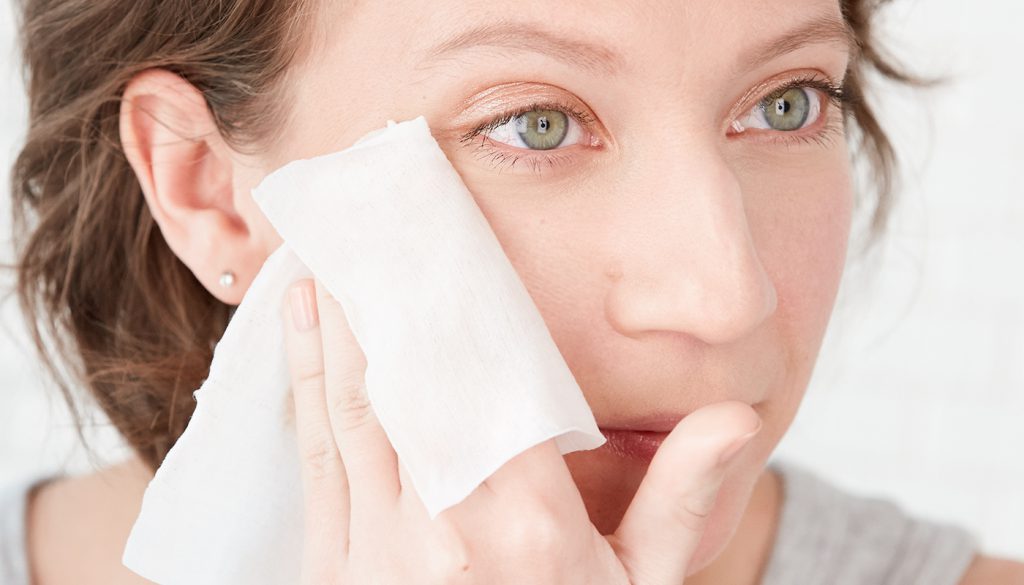 Face and eye make-up removal are very important when it comes to healthy and beautiful skin appearance. Make-up cosmetics left on the skin can cause irritation, acne, allergy, and other imperfections. If you wish to avoid them, check out how to correctly perform eye and face make-up removal.
Why is make-up removal important?
Make-up removal is one of the most important beauty treatments. During make-up removal, you remove not only the make-up but also sebum, perspiration, dirt, bacteria and other pollution that could clog skin pores and be the cause for imperfections. What is more, if you went to bed with your make-up on, the cosmetics would mess up your sheets. The result? In between the material's fibers, bacteria would proliferate that could lead to ocular disease.
How to perform face make-up removal?
Always use cosmetics recommended for make-up removal and that match your skin type. You can choose from lots of cosmetics with various textures, compositions, and properties. Pay attention to the manner of use because incorrect use can cause more harm than good. Remember that the use is different for gel, micellar liquid, and cream. Another matter of importance is the use of toner that will restore your face with its correct pH.
How to perform eye make-up removal?
Eye make-up removal is a crucial step in skincare. The go-to cosmetic for this part is usually bi-phase cosmetics which is known to be able to remove also the waterproof cosmetics. It is important to shake the bottle so that the two liquids would mix.
The eye make-up removal technique is also of great importance. Take a bit of the cosmetic on to the cotton pad and press gently to the eyelid. Wait for the make-up cosmetics to dissolve – repeat this action until the skin is clean. Do not rub the skin because it may lead to skin irritation and weakening of the eyelashes that will result in their excess falling out.
Homemade cosmetics for skin cleanse
Yeast face mask: 1.8 oz. of fresh yeast mix with a tsp of honey and a tsp of water which will allow you to obtain a paste texture. Then apply the cosmetic on to the face for 10 minutes and wash down with warm water. This type of face mask calms irritations, cleanses and removes sebum.
Cucumber face mask: place thin slices of cucumber on to the face and neck. Cover it with a wet gauze so that the cucumber wouldn't slip down from the face or become dry. After 20 minutes take the whole thing down and you'll feel gentle refreshment and see that your skin pores closed.
Pumpkin face mask: half of a glass of blended pumpkin mix with a half of glass of natural yogurt and set aside for 2 hours. Then take created cosmetic and rub it in the skin twice a day; rinse down with water.
Cleansing milk for make-up removal with elder: take two tbs of elder tea and mix it with two tbs of milk. Then apply to the face with cotton pads.