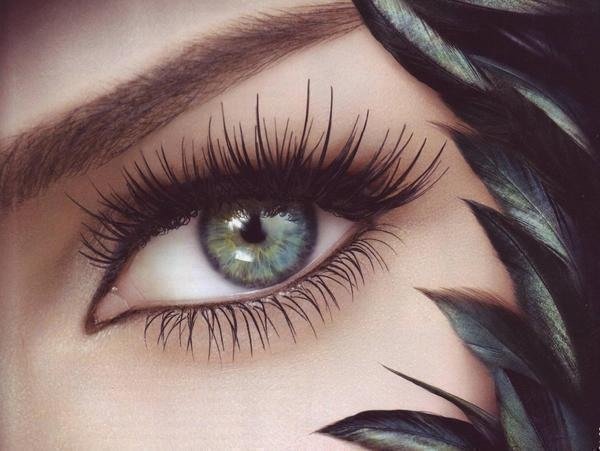 Extended eyelashes look stunning. Indeed, it's an enticement to get them done. After all, thanks to this cosmetics procedure, you can get long, alluring and thick eyelashes almost offhandedly. Most often than not women are easily tempted to get their lashes extended at a beautician's without being aware of all the side effects such beauty treatment might trigger. If you are wondering whether to expose yourself to such procedure, learn a few facts about the eyelash extensions and everything that is connected with it. Below, you will find everything you should know about the procedure.
Q&A: Eyelash extensions
1. Eyelash extensions – What's the procedure like?
Eyelash extension procedure depends on attaching synthetic eyelashes to natural eyelashes that still grow on eyelids. The number of attached eyelashes may vary. The most subtle version is 1:1 Method (1 synthetic eyelash attached to 1 natural eyelash). It also happens that there are a few synthetic lashes attached to a natural one.
2. Does eyelash extensions damage natural eyelashes?
Yes, eyelash extensions might damage your natural eyelashes. Basically, there are two factors that determine whether natural lashes get damaged or not: the condition of natural lashes and the quantity of attached falsies. Thickness and length of the attached eyelashes also matter.
The way a beautician performs the procedure is also important. The longer we wear the extensions, the more damaged our natural eyelashes are getting. After a few months of wearing falsies (including the fill-in sessions) you can be sure that the natural eyelashes' condition will deteriorate.
3. Do I have to take care of the falsies somehow?
Sadly, this is an issue that few women is aware of. Eyelash extensions must be kept clean, which means that they have to be regularly washed. Within 48 hours since the procedure the extensions mustn't be exposed to water. After that, the synthetic hairs have to be make clean with a special eyelash shampoo.
4. What are eyelash mites and can I get them during the procedure?
Eyelash mites are microscopic creatures that may live in our skin, especially in the follicle area – mainly near lash and brow hairs. If we have eyelash extension procedure done at a beauty parlour's of doubtful conditions, there is a possibility to get infected by eyelash mites. Invasive infection caused by these animalcules can lead to eyelash and eyebrow loss.
It's also worth realizing that you can pick up eyelash mites when using cosmetics belonging to someone else or by testing colour cosmetics in drugstores. Eyelash mites feed on sebum.
5. Can I do eye make-up with eyelash extensions on?
You can do make-up to your eye skin area, yet you shouldn't apply mascara.
6. Eyelash extensions – Are there any requirements to make-up removal?
Eye make-up removal should be done using delicate cosmetics. Also, the lashes shouldn't be rubbed so as to prevent pulling them out. Moreover, you should resign from using oil-based products (OCM make-up removal isn't recommended) because the adhesive used for the procedure doesn't tolerate oils.
7. Eyelash extensions – How often should I arrange a fill-in session?
It depends on the pace at which your natural lashes grow. However, in general a fill-in session should be arranged more or less every 3 weeks.
8. Eyelash extensions – Does the procedure weigh down eyelids and accelerate its aging processes?
Providing that the procedure is performed correctly and the extensions match the natural lashes, eyelid skin shouldn't get damaged. However, the situation gets more serious if the technician fails to select the falsies. Then, eyelids might get too overburdened.
9. Eyelash extensions – Is it allergy-friendly?
Although eyelash extensions procedure is completely safe for allergy sufferers, you can ask a technician to run a patch test before exposing yourself to the treatment. It sometimes happens that adverse reaction to adhesive vapour appears after a while, or during fill-in session.
10. Eyelash extensions – What should I use to rebuild natural lashes after taking falsies off?
Once you remove falsies, it becomes clear that the natural eyelashes condition worsened considerably. Sometimes the changes aren't significant, yet most frequently natural eyelashes are miserable. In such cases, you can make use of an eyelash serum. Such cosmetic works like a remedy for fatigued eyelashes. In short, eyelash serum is able to strengthen eyelashes from the very bulb making the lash line thicker; also their growth accelerates. This is an innovative method to restore damaged eyelashes from the very core.