When you plan your vacation, you consider different scenarios and pack all essentials in your bag. Are you sure you haven't forgotten something? What about your hair? Do you know how to protect it against the sun and keep it shiny and vivid even after your time off? See the best ways to keep hair from losing shine in the summer. If you plan on a summer trip, you must know them!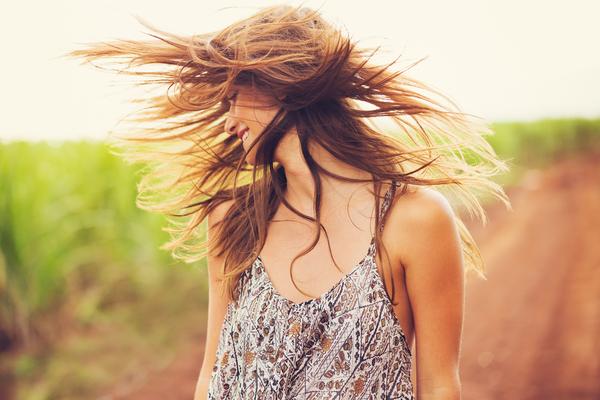 We usually don't care about the effect of the summer fun on our strands. We tend to give the skin more thought, keeping it safe from sunburn and treating ourselves to a healthy tan without irritations. Hairdressers know that very well – the salons are crowded in the fall when we try to fix sun-damaged hair with repair treatments.
Try to hold it back at least once: protect your hair against damage. How? This is what the guide will teach you. It's been written for anyone who takes their hair to the beach!
How to prep your hair for the summertime?
You should start taking better care of your hair at the beginning of spring when the sun only starts touching the skin gently. This is the best time to trim the ends even if they aren't harshly damaged. This way you don't only get a perfect cut but also keep hair healthy. Damaged, split ends make hair lose water fast. This is not what we want before setting off on a trip.
Moreover, you should also think about coloring early enough because doing it right before sunbathing isn't a good idea. Hair is more sensitive and prone to damage after dyeing so it's better to change the hair color in other seasons than summer. The color will be more vivid and longer-lasting, not losing the gloss. What's most important, hair will keep healthy, resilient and strong.
Hair-care routine before vacation
Before going on vacation, it's good to slightly change daily care to strengthen the hair and prep it for the summer challenges. What's the best way to do that? Use simple products that you probably have on hand.
Moisture-boosting hair mask – this is the basic element for any hair type. Before vacation, replace a simple conditioner with a stronger humectant mask which hydrates hair from within.
Strengthening hair mask – if you notice your hair is getting worse, give it a boost before the summertime relaxation. Don't wait until hair is damaged – revive and rebuild your hair earlier e.g. using an effective keratin repair mask.
Natural hair oils – you get great support from oils which repair, nourish and revitalize the hair, protecting it against external aggressors and loss of hydration.
How to keep your hair color from fading in the summer?
If hair is healthy, strong and hydrated, it's also more resistant to the damaging effect of the sunlight – how you care for your hair before vacation matters a lot. Besides that, you should follow a few simple rules to avoid going back with dry, dull, brittle hair. See our manual for hair on vacation – everyone should study it!
Don't stay in the sun with wet hair because it's more delicate and more likely to suffer from physical damage.
After going out of the sea or swimming pool, rinse the hair with clean water as soon as possible to get rid of salt, chloride or sand.
Protect your hair from the sunlight using different methods, SPF-rich products, oils, hat or scarf.
Wash your hair more often, using a mild shampoo to avoid greasiness and scalp irritations.
Let your hair dry naturally and let it rest from a blow-dryer to avoid dryness and heat damage.