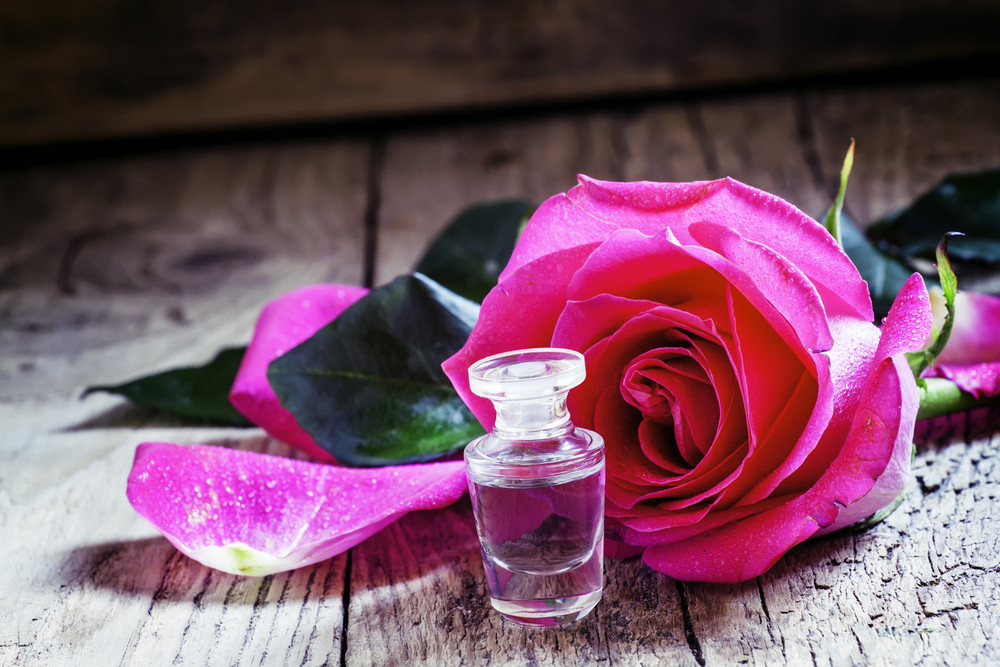 Rose oil is a natural product that thanks to its rich properties is used in aromatherapy and in the production of cosmetics. What are the cosmetic properties of rose oil and how is it used? How is rose oil extracted and how can it be used for face cleansing? [OCM method).
Rose oil – cosmetic properties
Rose oil soothes the skin and gives the tired skin more shine. It has a positive effect on dilated blood vessels as it strengthens them and reduces redness.
Rose oil contains vitamins C and E and unsaturated fatty acids, which is why it is often used in cosmetics for mature and dry skin. What is more, rose oil nourishes the skin, has a moisturising and firming effect. It smoothes wrinkles (also mimic wrinkles), reduces swelling and ensures fresh, healthy look of the skin.
How is rose oil extracted?
Rose oil is extracted from damask rose, also known as the rose of Damascus. The flowers are mainly grown in Egypt, Bulgaria, France, Turkey and Iran.
The petals, from which rose oil and rose water are extracted, must be picked at dawn, otherwise they lose their fragrance. The plantations are very large, one hectare annually gives from 3000 to 5000 kilograms of pink petals. This amount is enough to make only on liter of oil.
Rose oil – cosmetic use
Rose oil is an ingredient of many cosmetics, such as moisturising creams, lip balms, hair oils, shampoos and body lotions.
Rose oil – how to use it for facial cleansing? Oil Cleansing Method
In oil cleansing method you can use the rose oil to cleanse your face after the whole day. This method is very effective because it quickly and effectively removes oily impurities. Rose oil removes excess sebum and cleanses the skin pores.
To cleanse the face with the rose oil, mix it with the castor oil. The ratio should be 70-90% or 30-10%. Prepare also a small towel. When your mixture is ready, refresh the skin with a hydrolate or simply with water. Then massage the mixture into the skin with circular motions. Then soak the towel in lukewarm water and wash your face with it. At the end, wipe your face again.
Rose oil – other uses
Aromatic bath
To prepare it, just add two drops of rose oil into the bathtub. Such a bath relaxes and regenerates the body.
Massage
Such a bath relaxes and regenerates the body. Just spread a few drops of it over your hands and spread on your face in circular motions. Rose oil should be absorbed very quickly.
Aromatherapy
To feel the rose oil in the air, use the oil burner with a few drops of rose oil. Your apartment will smell beautifully after just a while.