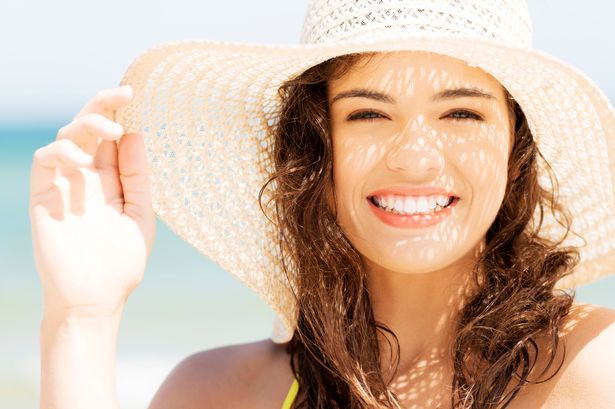 The sun has a beneficial effect on us. Thanks to it, our body produces a very much-needed vitamin D, which prevents the hump and gives us energy. Already fifteen minutes in the sunlight will help us supplement its daily needs. Unfortunately, the sun's rays can act on our hair and skin destructively, that is, dry them out and consequently damage them. How to take care of the skin and hair in spring and summer to prevent it?
How to take care of the skin in the spring and summer?
Face cream 
Skin care during the warm seasons should begin with the selection of cosmetics containing a UV filter. For this purpose, we should purchase moisturizing and nourishing face creams. Rich creams can clog the pores, and this is the worst thing we can treat the complexion at high temperature. If we have an oily complexion, we should give up the highly degreasing creams with a high alcohol content during the hot season, which additionally dries up the complexion. Long exposure in the sun is also harmful to the capillary, atopic and freckled complexion. With these types of complexion, creams with the highest filters should be used – from 30 to 50 SPF.
Foundation 
During a heatwave, it is best to reach for BB creams that have a light consistency and contain a UV filter. You can use standard foundations, but when choosing them, you should be guided by the contents of the UV filter as well. For the spring-summer period, light, low-coverage foundations will be more beneficial.
Thermal water
During hot sunny days, thermal water will be very useful. It will help you set the makeup and refresh your skin. What's more, it can also replace a face toner, it will reduce under eye puffiness, and if stored in the fridge, it will bring relief not only to the face but to the entire body.
Protective lip balm 
In the spring and winter, you cannot forget about the lip protection. During hot seasons, your lips are equally exposed to overdrying as the skin and hair. To prevent this, it is worth reaching for lip balms containing a UV filter that will improve their condition and provide them with a healthy look.
How to take care of the hair in the spring and summer?
Hair cosmetics 
Although the sun-lightened hair looks nice, it is a sign of damage. To protect hair from the sun, use cosmetics with filters that also contain moisturizing, nourishing and regenerating ingredients, for example, ceramides, marine collagen, jojoba oil or macadamia oil. On hot days, it's a good idea to have a spray mist with a UV filter and leave a fresh scent on your hair. In addition, it is worth using a regenerating conditioner that will rebuild sun-damaged strands.
Head covering 
Whenever the air temperature exceeds 25 degrees Celsius, you should not leave the house without a hat.