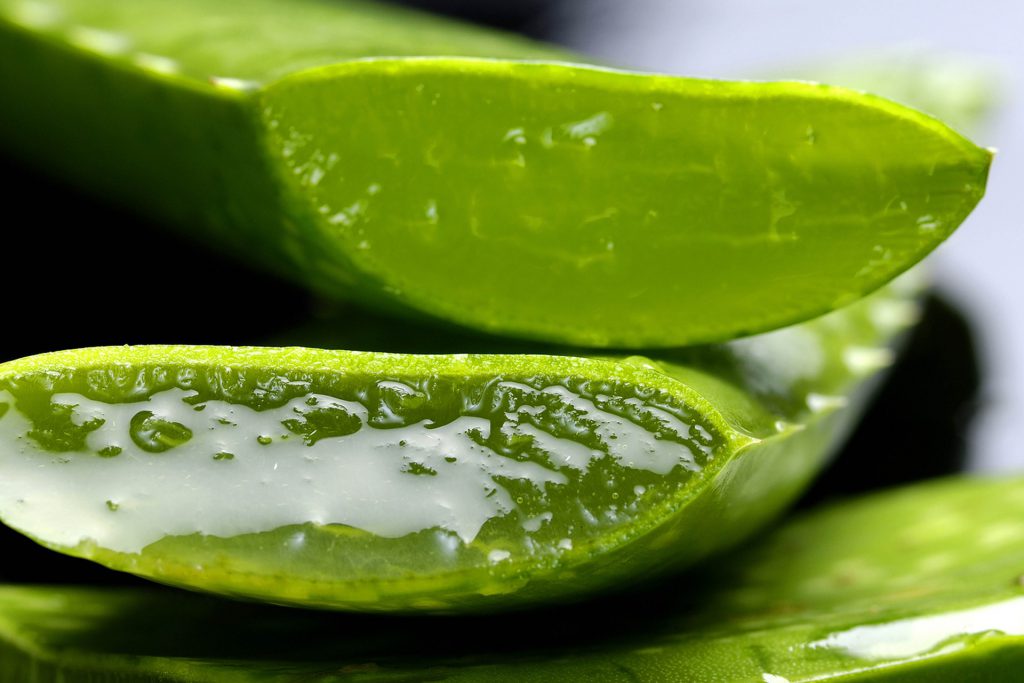 Aloe vera belongs to the group of succulents – plants that can survive without water. There are about 500 varieties of aloe vera, and each has just as many uses. Where does aloe come from and what properties does it have? What cosmetic use does it have?
Where does aloe come from and what properties does it have?
Aloe occurs in Africa and in the Arabian Peninsula. Its therapeutic properties were used in ancient Egypt, China and India. This plant was a cure for burns and lung diseases.
Aloe vera is a highly valued ingredient in the diet of people who want to lose weight. It can be grown at home, it also produces delicious aloe juice. The juice itself has many properties as well as it improves the body's immune system, has antibacterial effect and deeply penetrates the skin. For this reason, beauty products often contain aloe vera.
Aloe – application
Aloe vera in shampoos and hair conditioners
Aloe can be found in shampoos and other hair care cosmetics, such as masks and hair conditioners. The plant strengthens the hair, gives it beautiful shine, facilitates combing and makes the hair less tangled and dry. Also, shampoos with aloe prevent split ends thanks to vitamins A, B2, C and E and also amino acids. What is more, aloe vera is a humectant. Humectants are one of the three main elements of hair care (there are also emollients and proteins) that moisturise the hair.
Aloe vera in creams for mature skin
Aloe vera supports the synthesis of elastin and collagen, improving the skin's firmness and elasticity. It contains vitamins A, C and E, which are necessary for mature skin. Vitamin A is responsible for the skin peeling and the production of hyaluronic acid. Vitamin C makes the capillaries walls more flexible, whereas vitamin E moisturises the skin, lubricates and smoothes it.
Aloe vera in lip balms and protective lipsticks
Aloe is used in lip balms, because it protects the delicate lip skin from drying out. This part of our body is specifically exposed to the harmful external effects, such as sun, wind or frost. Aloe heals small irritations and insect bites because it accelerates wound healing. In addition, lip balms containing this natural ingredient accelerate the regeneration of the skin on the lips.
Aloe vera in gels and body balms
Gels and body lotions with aloe vera are recommended for dry, sensitive and less elastic skin. Aloe moisturises the skin, regenerates and firms it. Gels and body lotions with aloe vera are used as a remedy for atopic eczema, as it relieves inflammation and redness. It is valued because it brings the irritated skin relief.
Aloe vera in deodorants and products for acne
Aloe contains enzymes that neutralize free radicals, as well as antranoids with antifungal and antibacterial properties. This plant is, therefore, often used in cosmetics for acne. In fact, aloe relieves the acne, but, unfortunately, it does not cure it.
Aloe vera can be found in deodorants because its antibacterial effect helps to reduce the unpleasant smell of sweat.
Aloe vera in suntan lotions
Aloe juice is used in suntan lotions because it prevents the skin from drying out and sunburns. Thanks to this ingredients you can avoid irritations and redness of the skin. How is it? Aloe vera contains special ingredients that absorb harmful UV rays. Also, aloe helps by moisturising the skin exposed to the sun.